Best Match For Sagittarius – Most Compatible Signs and Chart
Check out what the best match for Sagittarius is and learn more about what signsare compatible with him in terms of life and love.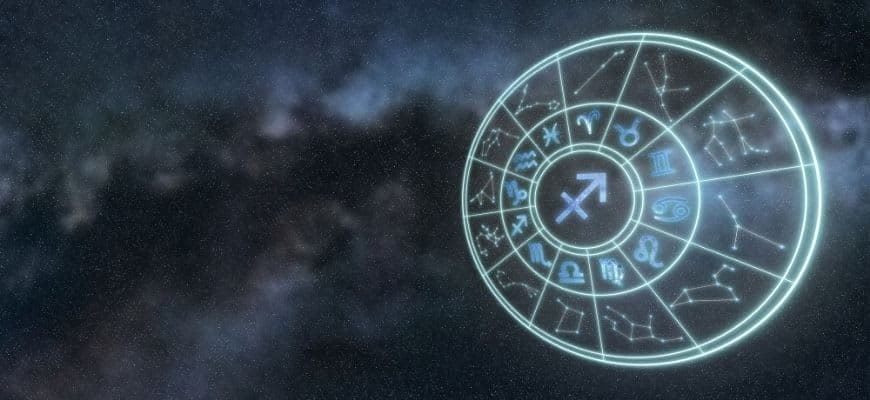 Sagittarius is a mutable fire sign ruled by Jupiter. He has a profound wanderlust and desire for knowledge which makes many women attracted to him. If you're an adventurous risk-taker, you're likely to get along with a Sagittarius man.
This article shows you the best match for a Sagittarius man and compatibility with each of the 12 zodiac signs. You'll also discover what this adventurous fire sign looks for in a partner.
Sagittarius Compatibility Chart
Zodiac Sign
Friendship
Sexual Intimacy
Marriage
Overall Compatibility
Aquarius
High
High
High
High
Pisces
Medium
Low
Medium
Low
Aries
High
Medium
Medium
High
Taurus
Low
Medium
Low
Low
Gemini
Medium
High
Low
Medium
Cancer
Medium
Low
Medium
Medium
Leo
Medium
High
High
High
Virgo
Low
Medium
Low
Low
Libra
Low
Low
High
Medium
Scorpio
Low
High
Low
Low
Sagittarius
High
High
High
High
Capricorn
Low
Medium
Low
Medium
Zodiac Sign
Aquarius
Friendship
High
Sexual Intimacy
High
Marriage
High
Overall Compatibility
High
Zodiac Sign
Pisces
Friendship
Medium
Sexual Intimacy
Low
Marriage
Medium
Overall Compatibility
Low
Zodiac Sign
Aries
Friendship
High
Sexual Intimacy
Medium
Marriage
Medium
Overall Compatibility
High
Zodiac Sign
Taurus
Friendship
Low
Sexual Intimacy
Medium
Marriage
Low
Overall Compatibility
Low
Zodiac Sign
Gemini
Friendship
Medium
Sexual Intimacy
High
Marriage
Low
Overall Compatibility
Medium
Zodiac Sign
Cancer
Friendship
Medium
Sexual Intimacy
Low
Marriage
Medium
Overall Compatibility
Medium
Zodiac Sign
Leo
Friendship
Medium
Sexual Intimacy
High
Marriage
High
Overall Compatibility
High
Zodiac Sign
Virgo
Friendship
Low
Sexual Intimacy
Medium
Marriage
Low
Overall Compatibility
Low
Zodiac Sign
Libra
Friendship
Low
Sexual Intimacy
Low
Marriage
High
Overall Compatibility
Medium
Zodiac Sign
Scorpio
Friendship
Low
Sexual Intimacy
High
Marriage
Low
Overall Compatibility
Low
Zodiac Sign
Sagittarius
Friendship
High
Sexual Intimacy
High
Marriage
High
Overall Compatibility
High
Zodiac Sign
Capricorn
Friendship
Low
Sexual Intimacy
Medium
Marriage
Low
Overall Compatibility
Medium
Qualities of a Sagittarius
Sagittarius' qualities are heavily influenced by the centaur, Chiron. This archer is wild, kind, autonomous, and positive. Take a look at the most common personality traits of a Sagittarius.  
Independent
The Sagittarius' most distinct trait is their independence. They value their freedom over anything, which is why they often have the best life experiences to share in conversations. Their autonomy allows them to be innovative at home, work, and in their social life. They also don't mind being different from the crowd because they feel complete and enough on their own.
However, Sag's love for freedom can affect his relationship with other people. Sagittarius men can be flirty toward other women even if they're already in a relationship. The Sagittarius woman gets in trouble at work because she wants to do things her way.
Optimistic
Both Sagittarius men and women always look on the bright side. They find numerous possibilities and opportunities even amidst a challenge in their life. This is why many people want to be friends with this fire sign and find themselves in social gatherings all the time. The mutable sign is open to trying out new things and broadening their horizons, thanks to their idealistic attitude.
However, if Sagittarius gets unrealistic and doesn't learn how to weigh the pros and cons of a situation, their optimism just turns into naivete. Sagittarius women are more likely to have that "trust and believe" mindset. The Sagittarius man, on the other hand, comes off cocky when he shares his big goals without a legit plan.
Intelligent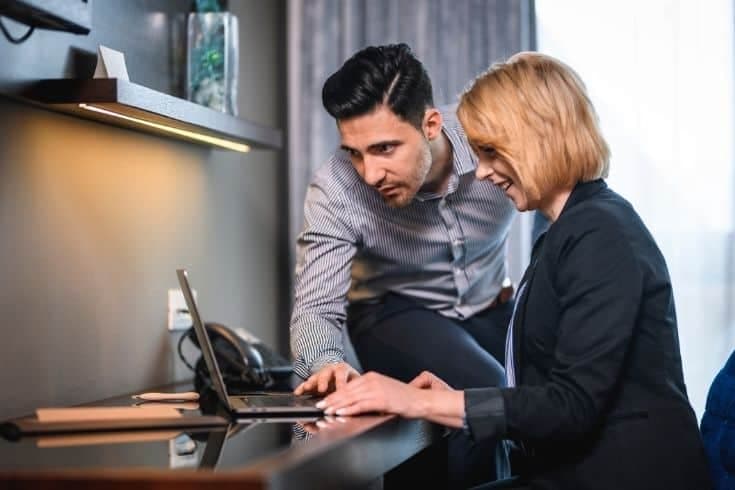 Sagittarius is an intelligent sign. The Sag man loves hard sciences and technology, while the woman is knowledgeable about the liberal arts. Both Sagittarius men and women are philosophical and emotionally intelligent.
They make amazing life coaches because they can troubleshoot any personal problem that their friend encounters. These problem-solvers value the bigger picture. Instead of teaching someone how to win an argument in the relationship, Sagittarius reminds them about the goal of their discussion.
However, Sagittarius' intelligence should not make him fall into stubbornness and inability to give attention to detail. They must also let other people talk.
Compassionate
Intelligent and independent signs tend to be rude or condescending, but not Sagittarius. Sagittarius is empathetic because they are guided by their heart and they like to look at the bigger picture instead of the tiny details. Their ability to socialize, along with their love for new experiences, makes them get along with people from all walks of life.
The Sagittarius man is more confident in giving advice than the Sagittarius woman. Nevertheless, both are great listeners who absorb the emotions of the people they talk to. They are generous and concerned for others' well-being.
Curious
Sagittarius people are curious about life. Their questioning attitude is what makes them intelligent. The Sagittarius man wants to know more about nature, wildlife, and probably cars or technology. Meanwhile, the Sagittarius woman likes to learn about arts, fashion, and food.
Both Sagittarius men and women are always on the lookout for new information about politics, petty gossip, trends, and everything. They are interested in trying out all things new, which is why they have numerous unfinished projects. Sagittarius is a jack of all trades because of their inquisitive personality.
What does a Sagittarius man look for in a partner?
A Sagittarius man doesn't have high standards. He just wants a partner who's as fun and outgoing as he is. Capture his heart with these characteristics.
Adventurous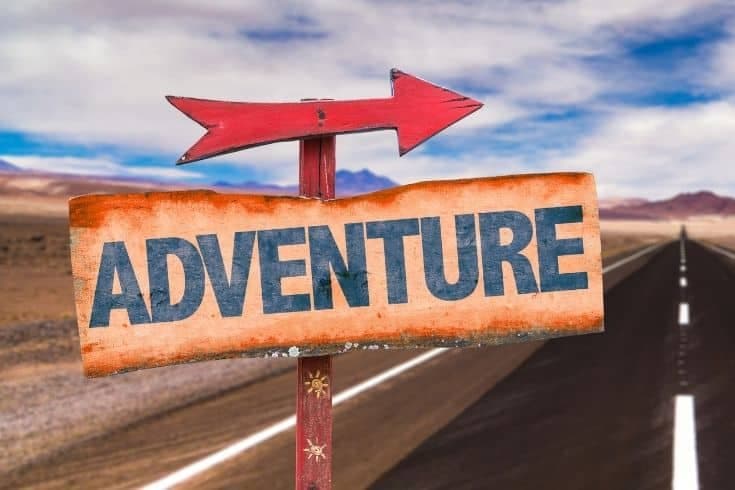 Sagittarius is a traveler who wants to explore the world. Although he likes solo trips, he also wants someone by his side who would see new places with him. His ideal woman is not just an adventurer. He wants someone open-minded and fearless.
If you like a Sagittarius man, be prepared to try exotic foods or go sky-diving. You should also be willing to move from one place to another when dating him.
Confident
The Sagittarius is symbolized by the archer who is half human and half horse. This bold sign isn't scared to chase his desires no matter how many people think they're unrealistic. For this reason, he needs a woman who is just as ambitious and confident as he is.
He goes for a lady with intention, passion, and drive to work. She must have a strong belief in her abilities so that both of them will live a bountiful life that is full of travels and enjoyable experiences together. She should also be confident enough to remember that she's the most beautiful woman in his eyes, and that there's no other woman like her.
Independent
The Sagittarius man is known for being self-sufficient. This eternal bachelor doesn't know how to fully commit and live a married life. He wants to be alone yet surrounded by many people at once.
Because of this, he needs an independent woman in his life who would value his freedom and respect his boundaries. A Sagittarius man will learn to be faithful to one woman if she isn't too clingy but is still supportive of his dreams. This ideal girl also has her own adventures which he is willing to support.
Positive
A Sagittarius man feels suffocated around people who complain a lot. He wants someone cheerful even during the toughest times.
Sagittarius is ruled by the miraculous and lucky Jupiter, which makes him optimistic and always smiling. He believes that the key to a long-lasting relationship is to never lose the fun. He also thinks that every problem happens for a reason. He wants a lover who's always in good vibes and rarely nags.
What does a Sagittarius man hate in a partner?
Some traits also turn this man off. Avoid these qualities if you want a Sagittarius man to fancy you.
Gossip
Sagittarius men have a deep desire for knowledge. They are curious about different academic disciplines, trends, and hobbies. He may enjoy petty gossip at times, but he doesn't like getting too interested in other people's lives. It's a huge waste of time for him.
What he hates more is the backstabbing, degrading, and judging that comes with gossiping. If you like spilling the tea or hearing it, it's time to change your ways. Sagittarius dislikes women who tattle on someone or show them in a bad light just to impress a man.
Controlling
No man wants a woman who acts like she owns his life. The Sagittarius is the most critical when it comes to controlling women. He has firm rules on choosing a secure woman who trusts him. Even though Sagittarius is a good listener, he hates hearing people try to dictate what he should do with his life.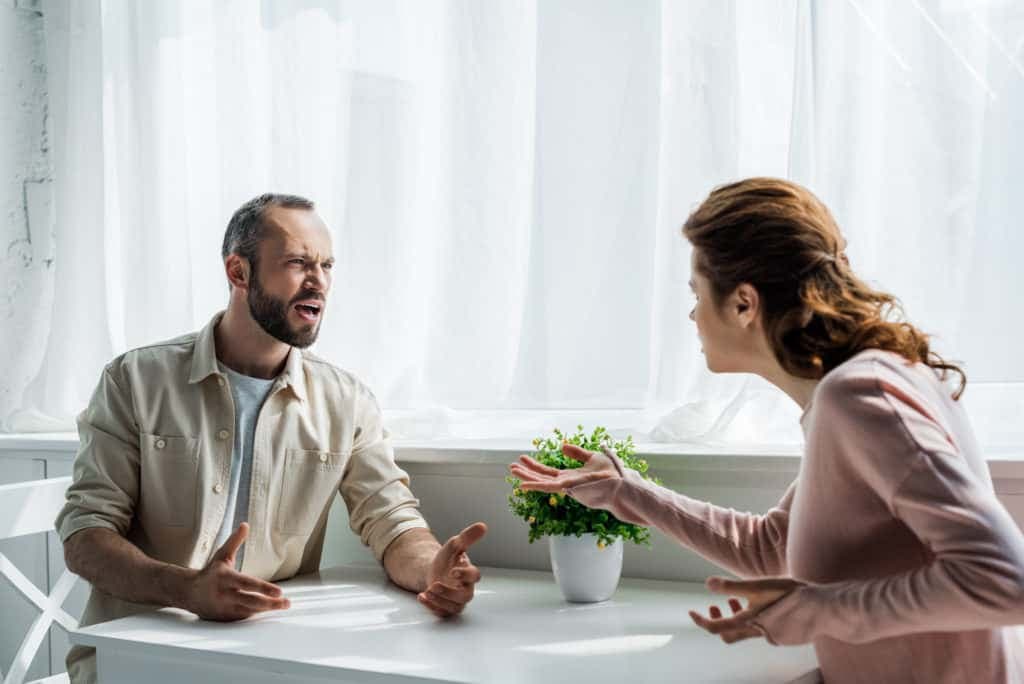 Value your Sagittarius man's freedom. Instead of fencing him in and hindering him from going on adventures, hold his hand as he explores the world around him. Let him grow with the help of your immense affection and support.
Judgmental
Sag doesn't want a woman who always minds what he's doing and criticizes it. He will bid farewell in an instant if she nags him. That's because Sagittarius likes being chill and just enjoying the company of the woman she loves.
A Sagittarius man would rather be with someone relaxed, supportive, and positive. He wants someone who doesn't give unsolicited advice. Start ditching your habit of pinpointing other people's flaws and showing dissatisfaction in their efforts. Instead, learn to be appreciative of your partner so that he will love you even more.
Needy
Sagittarius men hate it when their partner always asks something from them. She should not demand to know his whereabouts. She should also avoid asking for his social media password or joining an all-boys trip. If she's as independent as Sagittarius, then there's nothing for her to worry about. She doesn't need to overthink about him leaving or cheating. 
If you're insecure about Sagittarius' feelings for you even if you've been dating for months already, it's better to ask him straight up. This man is brutally honest anyway.
If you're still at the talking stage with a Sagittarius, avoid double texting. Let him enjoy the chase and let the relationship unfold naturally. 
Average Sagittarius Compatible Signs
Some relationships don't come naturally as they require patience and effort to be compatible. Here are four average relationship combinations that are Sagittarius' compatible signs.
Sagittarius and Capricorn
Being one of the more cautious signs, Capricorn women look for will and intellect in a man, which Sagittarius possesses. She is cautious, in charge, and calm. She doesn't let her guard down immediately, especially when it comes to the flirty Sagittarius. Sagittarius has to earn Capricorn's trust for their love affair to work.
This also means that the initial stages of their sex life are uncomfortable and displeasing for the Capricorn. As time goes by, she will feel relaxed about him. However, the two can have huge marital issues because they dislike commitment.
Sagittarius and Cancer
Sagittarius and Cancer have a low relationship score during their talking stages. But if they are both persistent in making the real relationship work, the score can be higher. The two signs need to set aside their differences to have a more stable and long-term relationship.
Both Cancer woman and Sagittarius man like asking tough questions. Even though they are emotionally intelligent, these signs tend to be reckless, blunt, and sometimes hurtful with their words. But Sagittarius and Cancer accept each other. Sagittarius needs to get used to Cancer's unpredictable and sensitive nature, while Cancer needs to be extroverted.
Sagittarius and Libra
The relationship between Sagittarius and Libra is simple yet stable. They may not be the most intense duo, but they have an easy-going connection that is perfect for a long-term relationship or marriage. Making for a close-knit romantic relationship. 
This does not mean they're a boring pair. Libra loves entertaining people and joking around, while Sagittarius is a great conversationalist. They can also go on happy adventures together. Conflicts only arise when Sagittarius finds it hard to settle for a mediocre relationship.   
Sagittarius and Gemini
Gemini is six signs apart from Sagittarius, which makes them opposite zodiacs. But this pair surprisingly shares a deep mental connection and makes for an inspiring relationship. Sagittarius likes sharing about philosophy and social issues, while Gemini discusses art, social sciences, and music to him. Gemini can easily learn to love going on adventures with Sagittarius
However, if the Gemini and Sagittarius don't get along, they cannot be civil or amicable. They will be extremely mad at each other because they don't know how to respect each other's opinions and communication styles. Both have the features of soulmate relationships if they work for it.
Weaker Sagittarius Compatible Signs
These weak pairs need a combination of effort and faith for their harmonious relationship to work.
Sagittarius and Taurus
A Taurus-Sagittarius relationship is either the best or worst relationship ever, especially a marital relationship. There's no in-between! Taurus easily gets frustrated with Sagittarius' free-spirited personality. She will find him messy, impulsive, and naïve.
Taurus also hates that Sagittarius doesn't pick his friends. He accepts and trusts all kinds of people. She may also get jealous because Sagittarius is nice to every woman he meets. On the other hand, Sagittarius may find Taurus to be extravagant and unappreciative of the simple joys in life.
Check our article for the Best Match for Taurus Man: 7 Most Compatible Signs.
Sagittarius and Virgo
Both being a sun sign, some believe that Sagittarius and Virgo are naturally compatible and make for an exciting relationship. However, they're only a great match on the surface. Underneath these fun adventures is a power struggle. Virgo wants Sagittarius to stick to a routine and be more grounded, while Sagittarius forces Virgo to loosen up a little.
Because of this, this sun sign couple are sometimes better off as friends or colleagues. They never agree on anything, especially the little things like what to do on the weekend or who gets to text first. Virgo has to stop being uptight and Sagittarius should start being careful about his habits.
Sagittarius and Pisces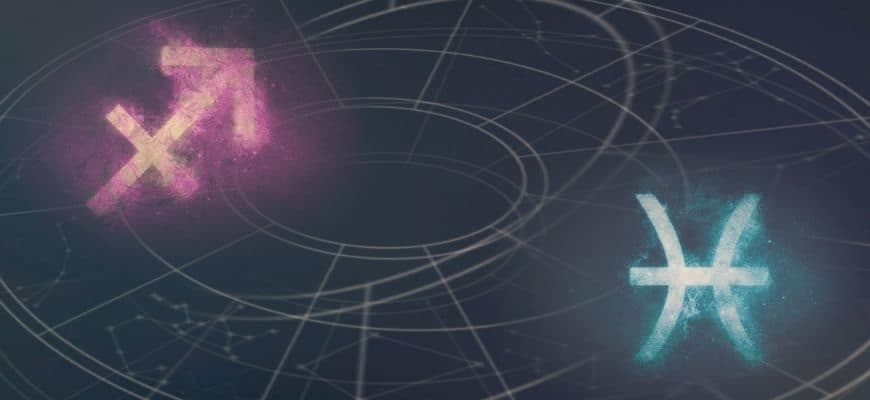 This is a dynamic relationship. As an astrology sign, Pisces signs can bring good fortune to a Sagittarius man's life if they develop a strong emotional relationship. He usually finds introverted people boring, but Pisces' open-mindedness will teach him to appreciate solitude. For Sag, Pisces is a life-changing partner.
However, a Sagittarius and Pisces relationship will have huge challenges in trust and loyalty. Even though Sagittarius is faithful to Pisces, she still gets jealous of every woman. If they overcome this challenge, they can be compatible for marriage and a passionate relationship.
Sagittarius and Scorpio
This is a fiery sign combo. Many Sagittarius and Scorpio relationships end in breakups or divorce because of Sagittarius' independence and cheating tendencies and Scorpios' manipulation and jealousy rules her. Their opposite personalities do not harmonize like Yin and Yang. Scorp wants to stay private with her life, while the cardinal fire sign of Sag shares every detail about their relationship on social media.
Scorpio cannot give the freedom that Sagittarius wants because she's afraid of betrayal. She doesn't like the feeling of competing with other people for Sag's time and attention.
Sagittarius Partners Compatible Signs
Here are the most compatible signs with the Sagittarius. These matches will get along well and may have a long-lasting relationship.
Sagittarius and Sagittarius
They say birds of the same feather flock together. Two Sagittarius people can have a carefree, adventurous, and energetic relationship. They could travel the world together and set up a business, yet they're still comfortable with not putting a label on their relationship.
This pair enjoys living in the moment. They are open to all kinds of change, whether it's moving to a new place, starting a family, or surviving a long-distance relationship. The two thrive off each other's independence, adventurous personalities, and desire to learn. As long as they respect each other's autonomy, Sagittarius and Sagittarius will last long.
Sagittarius and Leo
Two fire signs may end up as worst enemies or fierce lovers. Luckily, the Sagittarius and Leo pair get to be the latter. This couple is the most passionate and intense that they commit right away even if they don't normally do.
It's also easy for Sagittarius and Leo to resolve their conflicts because they are brutally honest yet genuinely communicative. Sagittarius can also give the Leo woman space if she needs some. He can patiently wait for her through a soul-searching adventure.
Sagittarius and Aries
Aries is the sign with the most common personality traits with a Sagittarius. Together, these two are daring, positive, and natural because they are four signs apart. This well-matched couple has an easy-going and low-maintenance relationship. The Aries woman matches her words with actions, and so does Sagittarius, making them a perfect duo.
The two may argue about their different approaches to life because Sagittarius asks tough questions, gets philosophical and emotional, and uses his head and heart, while Aries loves shortcuts and being impulsive.  
Sagittarius and Aquarius
Many consider the Sagittarius man and Aquarius woman as the ideal pair because they look wholesome and intellectual. Aquarius loves solidarity and community, which turns the sociable Sagittarius on. Her progressiveness also coincides with his love for knowledge and wisdom.
The Sagittarius and Aquarius pair are non-traditional. They are spiritually adventurous and they have their whole future planned ahead of them.  However, this couple often fights about who's right. Their open-mindedness can also confuse them about what they really want in this relationship.
Are a Male and Female Sagittarius Different?
Even though both Sagittarius man and woman are ruled by Jupiter and born between November 23 and December 21, there is still a slight difference between both of them.
For instance, the Sagittarius man's intelligence focuses on Science and technology, while the woman enjoys liberal arts and business. Both are philosophical and emotionally intelligent. They also enjoy learning about trends, although they don't tend to follow them.
The Sagittarius man is pushy when it comes to giving advice
He wants everyone in the room to know his opinion on things. But the Sagittarius woman listens and talks well. She can teach you to be happier through small adventures like trying out that new restaurant in town, while he believes extravagant trips are the best solutions to any problem.
The Sagittarius woman leads with the heart and head
She never loses sight of the big picture unless she gets overly sympathetic toward the people she's helping. She tends to absorb all their emotions and problems that she feels like it's her responsibility to fix them.
The Sagittarius man easily loses focus and is childish
But he is also positive, faithful, energetic, and generous. On the other hand, the Sagittarius woman is a good joker. She is adventurous, fun-loving, always concerned about your well-being, and will make you laugh.
FAQ
What zodiac sign should a Sagittarius marry?
A Sagittarius should marry an Aquarius, Leo, Libra, or Sagittarius.
What zodiac signs are compatible with Sagittarius?
Sagittarius is highly compatible with Aquarius, Aries, Leo, and his fellow Sagittarius. They'll each have a great romantic relationship.
Who is Sagittarius' soulmate?
Sagittarius' soulmate is his fellow Sagittarius because they have the same needs, goals, fears, and overall personalities.
What is Sagittarius' worst match?
Sagittarius' worst match is Taurus, but nothing is impossible between these two if they work on their differences and ideas.
Final Thoughts
The Sagittarius man is attracted to bold, confident, and positive women. He's made for a versatile woman who can match his fearlessness and high energy levels.
We hope this article helped you find your perfect match. Drop a comment below if you have any questions or feedback. We'll be happy to read and reply!
Remember that all Zodiac pairs have the possibility to be compatible in love. Some just need extra hard work and effort for the relationship to last.